My new favorite pastime when there's nothing to do at work is to head to Google Maps, pick an ocean, find an island whose name I don't know by sight/shape/placement, zoom way in, and check out either the Google-paths or just the user-submitted photos. This is heartbreaking work because let's face it, I KNOW A LOT ABOUT GEOGRAPHY ::blowing on knuckles::, so if I don't know about an island by sight, it's probably pretty fricking remote. So I've been zeroing in on random photos to find a lot of desolation. Old shipwrecks and untouched basalt column forests and "whale pots."
(What are whale pots? Super don't know. Well, I mean, they're these things:
but beyond that, I can't tell you. I'm pretty sure I don't want to know—sounds torturey. All I know is that those are them and that Campbell Island off the coast of New Zealand has some. [It also has some sweet basalt columns, I've found. See if you can find Perseverance Harbour.])
Anyway, I've spent most of my life knowing the word Socotra, or maybe just knowing that Socotra is a word but not what it means, but, um, I found Socotra today. It's a four-island archipelago off the Horn of Africa in the Indian Ocean, it belongs to Yemen, it's one of the world's most isolated island systems, and zooming in on photos of it is giving me a full-on fear heart attack. Bug-out conniption fit. Attack. Postscript: attack.
The island is basically uncontaminated from the time it separated from the mainland six million years ago. Ergo, a third of its native flora and fauna is found nowhere else on Earth, which is good, because I would spend all day crying if I didn't know that that I can safely keep tabs on all of the world's flesh-toned human-lady's-leg-lookin' trees with pink flowers growing out of the top.
[whoopee cushion noise]
Then these trees are rightly called DRAGON'S BLOOD TREES, just so that we are clear, that is their real and true name. "The name comes from the bright red resin collected by cutting the trunk, and used for medicinal purposes." Oh my god, have you ever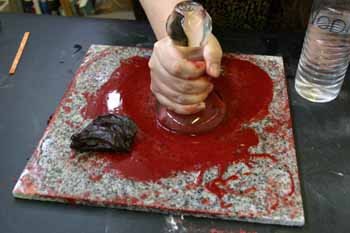 THEY BLEED. The trees in Socotra? So, they bleed.
This picture below for seriously makes me want to start sobbing. From my soul. Soul-sobbing. An entire forest of bleeding evil devil trees. To be fair, I also feel this way about those 200-foot-tall palm trees in L.A., too. As a society, what is wrong with your trees.
oh, and hey, "Egyptian vultures," of course there are Egyptian vultures sitting in this wacky-ass Brothers Quay nonsense tree, that is completely in accordance with World Rules:
It turns out that people LIVE on Socotra—whether by choice or force, I don't know—and naturally, this is what their little town looks like: godforsaken garbage-on-the-floor garbageville. Yep, makes sense to me. How could you organize yours thoughts sufficiently in order to build any kind of a town when you grow up surrounded by this nightmare shit, eating nightmare-flavored food. Being educated at Socotra nightmare school.
also this, what is this what is this
(that is actually really beautiful, only also CONFUSING)
I don't even know . . . what I'm looking at here. File name says something about salt pans. Again I prefer ignorance. Guys, your salt pans are broken.
COWS ON THE BEACH, WHAT IS THE MEANING OF THIS, the world has turned upon itself
It looks like someone, like, tried to burn this place down in a car accident and it melted but refused to quit. Blobby, liquefied-and-then-rehardened undead landscape.
"It is frequently referred to as Earth's most alien landscape," one tourism website says. Oh, no kidding, congratulations, you must be really proud of being terrifying
Other fun facts about Socotra:
* Its only native mammal is bats, how NOT SURPRISING AT ALL, out of all of history's mammals to choose from, of course it's the bat
* They're not native, but the mainland is overrun by "marauding feral cats," according to National Geographic
* Despite being a territory of Yemen, its inhabitants speak not Arabic but "Socotri," which has no written form (whut, how is that even possible to be alive today and speak an unwritten language)
Oh, well, I guess I'm glad I'm a woman and it's owned by Yemen so I can never go there anyway.
Oh, my god, SOCOTRA. What does Socotra even . . . mean? I am so scared of Socotra.